ALESIS Strike Multipad
รหัสสินค้า : ALESISStrikeMultipad
Alesis : STRIKE MULTIPAD
Multipad รุ่นใหม่ล่าสุดจาก Alesis เป็นกลองในตัว แถมยังทำหน้าที่เป็น Interface อีกด้วย
Multipad รุ่นใหม่ล่าสุดจาก Alesis มาพร้อมกับ 9 velocity-sensitive pads พร้อมด้วยเสียงกว่า 7,000 เสียง ที่อัดแน่นอยู่ในเครื่อง นอกจากจะทำหน้าที่เป็นกลอง
ยังทำหน้าที่เป็น Interface ไปในตัวทำให้คุณสามารถ Input เสียงจากอุปกรณ์ต่าง ๆ ได้โดยตรง และด้วยจอสีแสดงผลความละเอียดสูง ขนาด 4.3 นิ้ว และฟังค์ชันต่าง ๆ
ทำให้คุณสามารถ Edit/Sample/Loop เสียงได้ทันทีจากบนตัวเครื่องอีกด้วย
ตัวเครื่องยังแถมฟรีโปรแกรม Ableton Live Lite และ Pro Tools First มาให้อีกด้วย จะไปเล่น Live หรือ Record ก็ทำได้สบายค่ะ
Nine-pad Drum Controller with Onboard Sampler
With nine velocity-sensitive trigger pads, an exhaustive 6GB stock sample library, and an onboard sampler and USB memory stick port to create and import your own sonic textures,
the Alesis Strike MultiPad is a feature-rich and space-conscious drum controller for the stage and studio.
Onstage, there are loads of stock acoustic and electric kits and five onboard FX processors to home in on the perfect tone for your music.
And in the studio, you get exacting MIDI control over your favorite virtual instruments within the Ableton 10 Live Lite DAW/performance environment (included) to create sets and capture performances.
Hands on, one of the Strike MultiPad's best features are its raised back pads, which offer unbridled access to hi-hats, claves, and more. Customizable LED lights per each pad complete the look.
Onboard stereo sampler
Connect an external audio source (phone, mic, soundboard, or computer), and the Alesis Strike MultiPad is all you need to capture precise stereo samples and loops.
From stabs and drum breaks to memes and oddities, the Strike MultiPad's stereo inputs and mic/line gain adjuster ensure your audio remains true to its source.ใ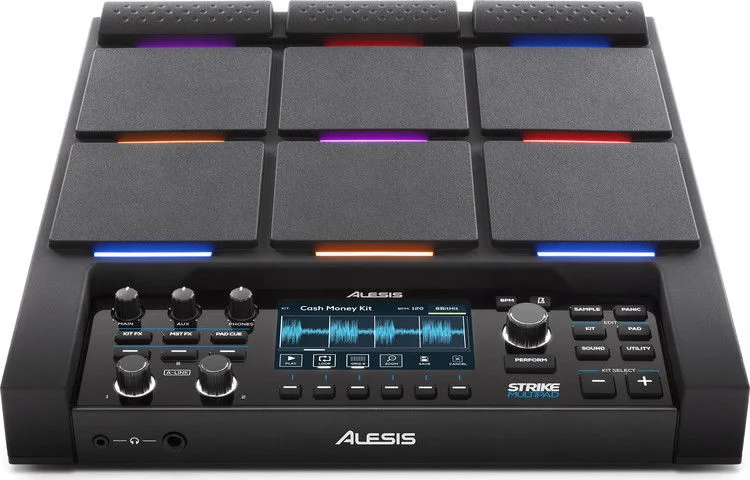 USB audio/MIDI interface
Whether you want to capture performances directly as you hear them or control virtual instruments inside your DAW,
the Strike MultiPad's USB port gives you two channels of hi-fi audio for exacting control over drums, chords, and percussion. No external device is required.
Connect the Strike MultiPad directly to your Mac or PC and watch it become the centerpiece of your studio setup.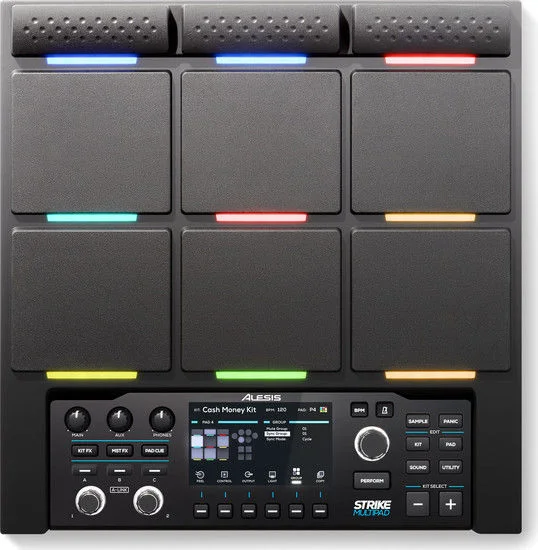 32GB of onboard memory
6GB of immersive onboard sounds are all you need to gig out with the Strike MultiPad. And for players who need custom sounds,
the remaining 28GB of memory equip this controller for even large sample libraries.
Load your own files over USB drive
The Alesis Strike MultiPad lets you store entire performances onto USB drives and import for instant access to sets and sounds.
Ableton 10 Live Lite included
Both as a recording platform and as a live instrument, Ableton 10 Live Lite is built to take your Strike MultiPad to brilliant new heights.
Alesis StrikePad Drum Controller Features:
9-pad drum controller with onboard sampler
Capture audio from a phone, laptop, or microphone
Custom LED lights for visual identification at a glance
Raised back pads are great for hi-hats, claves, and ride cymbals
32GB of onboard memory
Preloaded with 6GB of stock samples
USB memory stick input — load in your own audio files
2-channel audio interface — record performances without an external interface
MIDI over USB — control virtual instruments in your DAW
Includes a licence to Ableton 10 Live Lite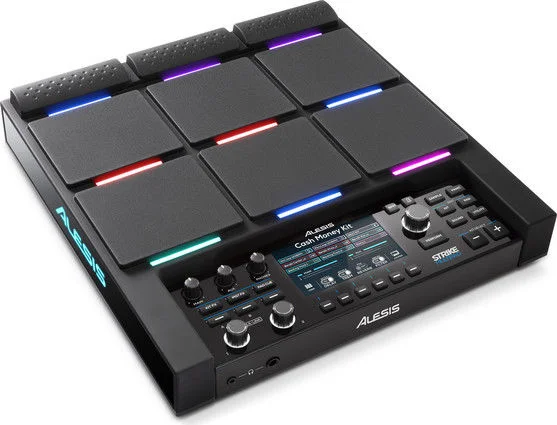 Technical Specifications
Connectors
(4) 1/4" (6.35 mm) TRS audio outputs
(1) 1/4" (6.35 mm) TRS headphone output
(1) 1/8" (3.5 mm) TRS headphone output
(1) MIDI DIN Output/Thru-port
(2) 1/4" (6.35 mm) TRS audio inputs
(1) 1/4" (6.35 mm) TS trigger input
(2) 1/4" (6.35 mm) TRS trigger inputs
(1) 1/4" (6.35 mm) TRS HH pedal input
(2) 1/4" (6.35 mm) TRS footswitch inputs
(1) MIDI DIN Input
(1) USB Type-B port
(1) USB Type-A port
(1) power adapter input
USB Drive
Supported Format : FAT32
Supported File Type : 16-bit, mono or stereo .WAV files, 44.1 KHz Sample Rate
Power
Adapter : 9 VDC, 1,500 mA
Voltage : 100–240 V, 50/60 Hz, 1.5 A Max
Dimensions
(width x depth x height)
13.75" x 14" x 3"
349.25 x 355.6 x 76.2 mm
Weight
8.5 lbs.
3.85 kg